Can we talk about your engagement photos session?
This 2020 has taken all of us by storm, do you agree? Many engaged couples planning a wedding this year had experienced COVID-19. What are you doing? Are you canceling your wedding or just postponing your wedding next year? If you're postponing for next year, let's work together and brainstorm ideas for your engagement session now!
Contact me here:
Do you love the ocean and blue skies?
I have the perfect location for you. This location has everything for a complete engagement photos session: the beach, rocks, open spaces, and the best part SECLUSION.
My clients loved it when I said "secluded" because is hard enough to be in front of the camera, just imagine lots of people around you watching. Are you looking for a pleasant experience? You need someone that understands your needs and frustrations, as a result, and even more, I will show you the most beautiful places I know here in Southern California.
IF YOU DON'T LIKE THE BEACH
You and your fiance need to determine if the beach is for you, if you don't like sand in your toes and maybe getting a bit wet, the beach is not for you. I'm an engagement and wedding photographer. And my client always comes to me for the reason why I know what to do if your need engagement photos. I highly suggest getting your ideas flowing, and millions of buyers and future clients use and rely on Pinterest for inspiration; it has been very successful in my sessions. Instagram has been trending as well nowadays, tons of inspiration.  Finally, I have lots of options and even more possible locations first of all like Malibu, Santa Barbara, and Orange County. The sky is the limit!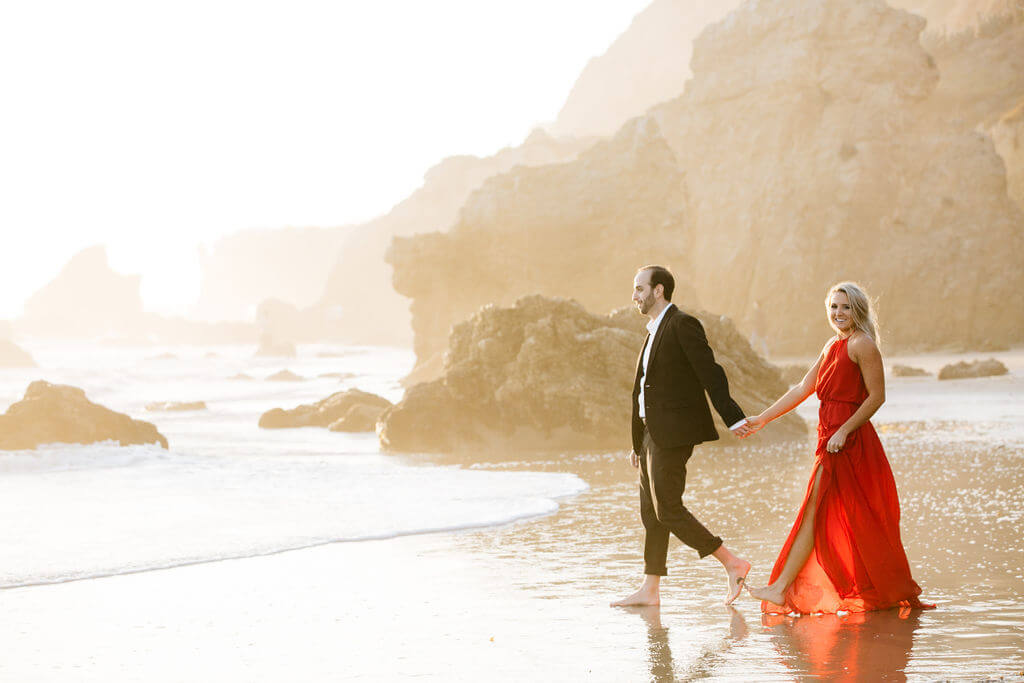 If you utilize these social media platforms for inspiration for your engagement photos session. I always tell my client to be real and choose what represents you and your fiance. Please, don't re-create or copy it won't work use it ONLY for inspiration, and we take it there.
Are you ready to book an engagement session? Get in touch with me, and I will provide you with all of the attention that you deserve. Certainly, you will have an epic experience. I will help you look your absolute best even more like I did with Sarah and Rhoee therefore, you will be probably you will be as happy as they were.
Want to see more engagement sessions? Click here