California Wedding Day Magazine.
Thank you to David Pressman for submitting to California Wedding Day, the intimate wedding we did this summer. I got to work with so many great vendors, who I now call my friends. This event was so intimate and full of sweet details that were selected by the bride and groom both professional pilots. David Pressman is an incredible artist who planned this wedding in a week, yes, a week! He even wrote this article about California Wedding Day… Thank you for thinking of me to this great group of vendors.
David Pressman Advised:
1. Know Your Budget. First and foremost, know your budget. In an ideal world money would be no object but since that's rarely the case it's important to know your cap. That being said, Pressman notes, be realistic when setting the bottom line and expect to encounter rush charges or inflated costs. For example, Pressman was able to find his bride her dream dress from JCrew, but it had to be shipped overnight in order to arrive on time.
2. Connections are Everything. Relationships are key: Pick a vendor that has established relationships with vendors. Look at their websites, ask around and put them on the spot asking who they can call on to make your wedding day a reality. Pressman set to work calling up his closest colleagues asking if they could help out in a pinch and was able to bring on one of his favorite florists, Lilla Bello and smoothed out a rough parking issue by phoning in his go-to valet team, Valet of the Dolls.
3. Trust your Instincts. In any situation, make sure that you really like the wedding planner you hire. Pressman advises that you look for someone who is upfront and honest about what they can and cannot do given your expectations and the time frame. "It needs to be an immediate sense of trust," says David Pressman, who also says to make sure it's someone who is able to stay in constant contact and isn't in the midst of planning another event. "They need to be able to give you their all," says Pressman. "I told my couple, you have me 24-7 so when I got a call about the bride's ill-fitting wedding dress at 8 p.m. one night, I dealt with it right then and there and arranged with the head of JCrew Bridal in LA to have a second dress shipped overnight directly to the seamstress."
4. Size Matters. Keep the guest list small as it will make a huge difference in the planners ability to deliver a beautiful design, says Pressman. "The fact that they had a small guest list of 25 people allowed me to have the budget to design and include all the beautiful touches like a rustic farm table set with linens, flowers and candles." Plus, the guest count made it easier to secure a caterer, florist, and cake because the amount of food and flowers was manageable.
5. Ditch the Traditional. "Given the time frame, I knew right away a traditional gown and wedding designer was not an option," says Pressman. While his bride did opt for a wedding gown from JCrew (they spent an afternoon scouring the company database by what was in stock and where it was located), Pressman recommends keeping your eyes open for sample sales, or turn to an online retailer like BHLDN and JCrew that also has an physical store where you can try on dresses or browse sale racks. Your best bet, says Pressman, is to head to a local boutique that sells evening gowns or department stories like Nordstrom, Neiman Marcus, Saks 5th Avenue and Anthropologie where you can find flowing beachy dresses or gorgeous evening gowns. And yes, if you need a seamstress expect a rush charge!
6. Pick an Off Night. Saturday night might seem like the obvious choice, but if you pick an off-night, such as Sunday or say, Thursday, your vendor choices are going to be much wider. Because Pressman's couple opted for a Sunday evening, he was able to secure one of his favorite musicians, Jason Sulkin, for the ceremony and cocktail hour. And the same goes for wedding photographers—most will be open on an off night.
7. Location, Location, Location. Think outside the box when it comes to your venue, traditional spots like hotels and popular wedding venues are likely to be booked, so Pressman advises being open to private homes, estates or finding a friend or family member that is willing to host. In this case, the bride (who works in the aviation field) found a home that she had flown over, tracked down the owners and worked out a deal. Unconventional, indeed! Pressman was on site the next day with his team to work out the logistics and make sure their would be no surprises.
8. Adjust Expectations. Cakes are booked ages in advance, says Pressman, so don't expect a five tier sugar-flowered extravaganza! Again, a small guest list comes in handy as Pressman was able to pull in top baker The Butter End Cakery but kept it simple. The couple got a three-tiered beauty, but only one tier was actual cake—the other two tiers were there for looks only. A great way to have your cake…and yes, eat it, too.
9. Keep it Simple. Don't go overboard with design and décor details—it's not the time to push the envelope. "We had a beautiful altar overlooking the Pacific," says Pressman. "The dinner table was one long feasting table that enhanced the surrounding beauty." And since the design was simple but gorgeous, Pressman was able to pull off some meaningful surprises like balsa airplane seating cards with guests names calligraphed on one wing and the couple's names on the other wing by longtime colleague Jill Velez of Copper Willow Paper Studio for the aviation-loving couple.
10. Just Say Yes. And not just to your significant other! You don't get to dwell on decisions, notes Pressman, and there are times that your planner will have to just take the reins and go. "I told the couple that because of timing, I couldn't give them the multiple choices that a longer design and planning period would normally allow, so they would need to trust my instincts. And they happily did." So be ready to let go of the process and trust that the team assembled by your planner will take care of every single detail.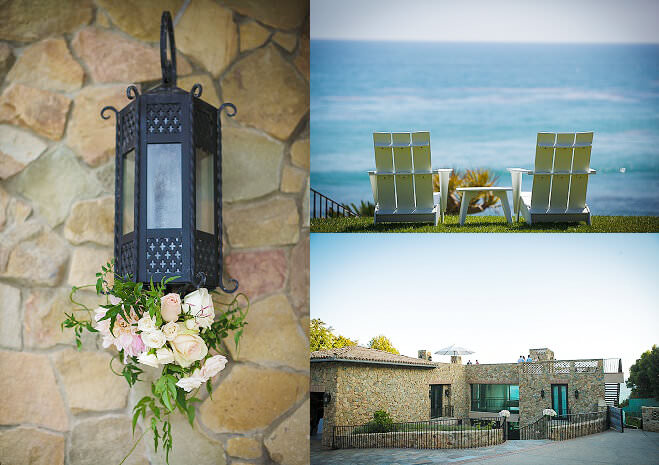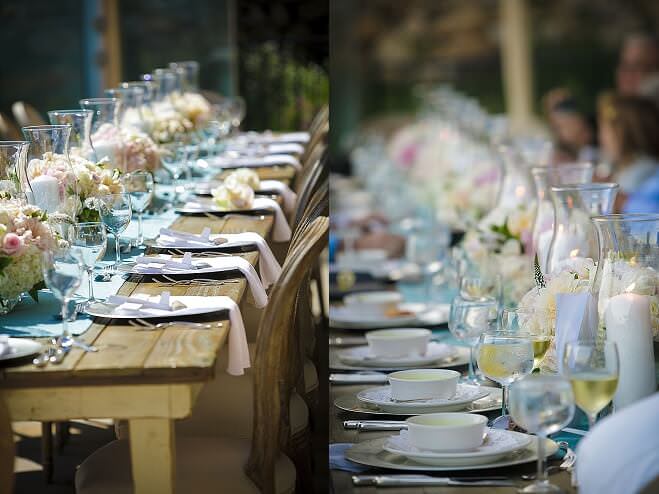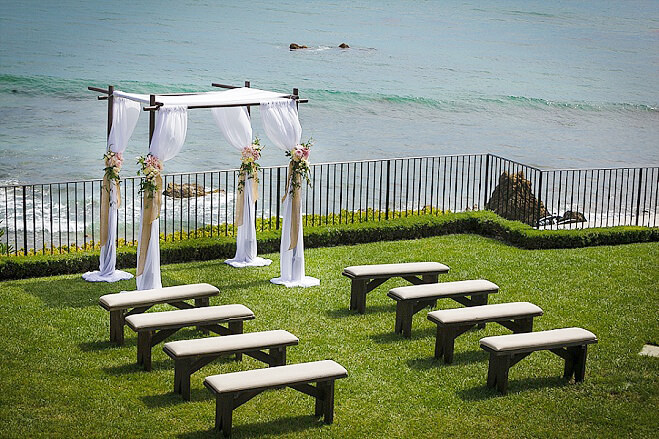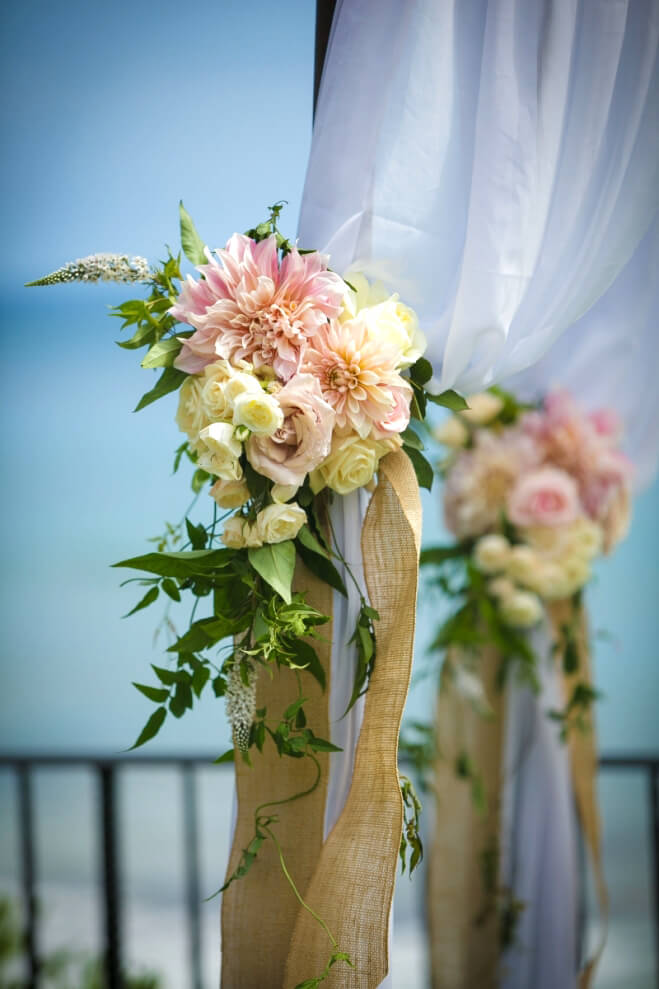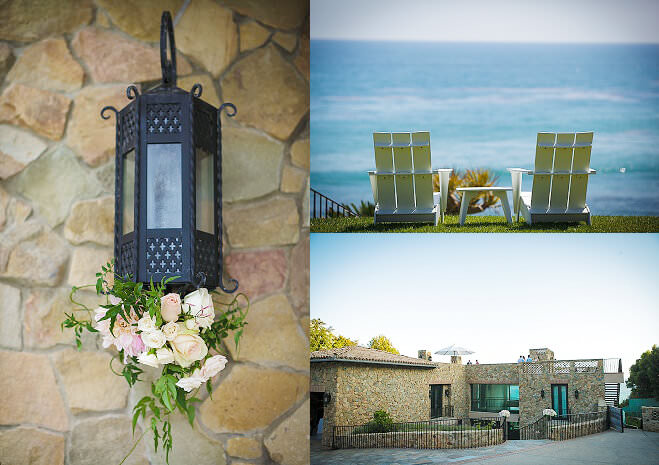 Vendors:
Valet: Valet of the Dolls
Caterer: Arli's Exclusive Catering
Linens: Designer Specialty Linens
Hair/MU: LouLou
Calligraphy: Jill Velez
Gown: J. Crew Bridal at the Grove
Seamstress: A Stitch in Time in Brentwood
Photographer: Gloria Mesa, https://www.gloriamesa.com
Rentals: Town & Country Event Rentals
Venue: Private estate in Malibu
Officiant: Chris Robinson
Music: Jason Sulkin
Florals: Lilla Bello
Cake: The Butterend
Wedding Design & Production: http://www.davidpressmanevents.com