If you're looking for a location for an engagement session in Pasadena, Southern California, there are several beautiful options available to you! Here are a few suggestions:
Pasadena City Hall – This historic building offers beautiful architecture and a classic Southern California feel. There are plenty of spots for great photos, including the grand staircase, the rotunda, and the courtyard.
The Huntington Library, Art Museum, and Botanical Gardens – This venue offers a stunning combination of gardens, architecture, and art. You can take photos in the Japanese Garden, the Rose Garden, and the Desert Garden, among others.
Colorado Street Bridge – This iconic bridge spans the Arroyo Seco and offers beautiful views of the San Gabriel Mountains. It's a great spot for photos at sunset or in the evening.
Old Town Pasadena – This pedestrian-friendly shopping district offers plenty of picturesque spots for photos. The colorful buildings and tree-lined streets provide a charming backdrop.
The Gamble House – This National Historic Landmark is a great option if you're looking for a classic, elegant location. The Craftsman-style architecture and lush gardens provide a beautiful setting for photos.
I hope these suggestions help you find the perfect location for your Pasadena engagement session!
No matter which location you choose, be sure to work with a Gloria Mesa professional photographer who can capture the magic of your engagement in Southern California.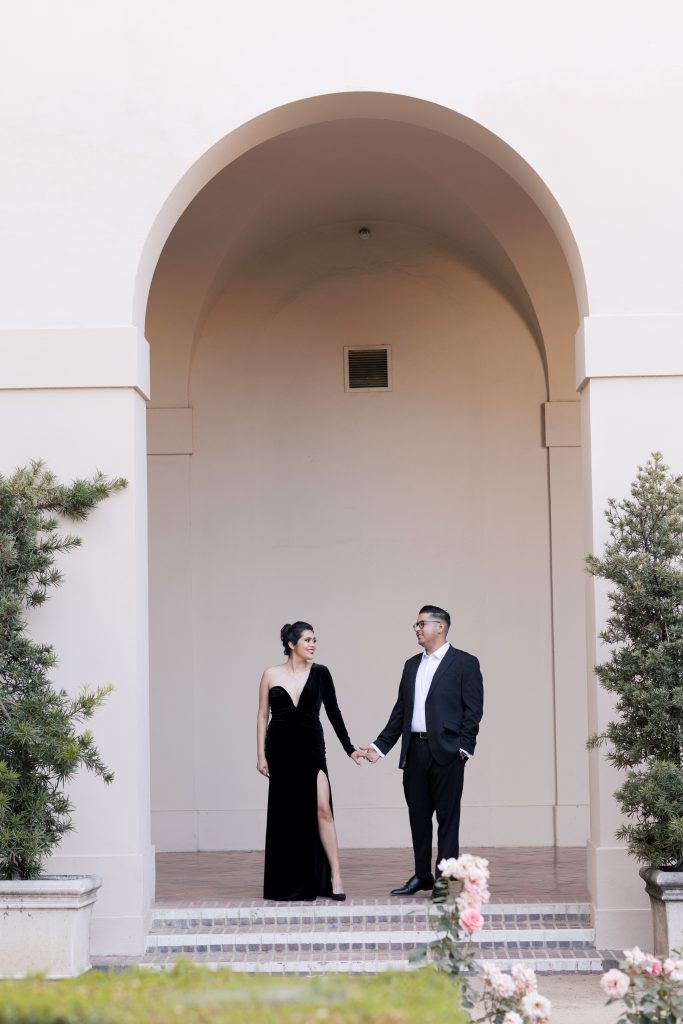 If you want to see more images of another session click here.
There are several benefits to having a photo session in Pasadena, Southern California. Here are a few reasons why Pasadena makes a great location for photography:
Beautiful scenery: Pasadena is known for its stunning scenery, with a variety of parks, gardens, and historic buildings that offer picturesque backdrops for photos. Whether you're looking for a natural setting or an urban environment, Pasadena has plenty of options.
Mild climate: With its mild Mediterranean climate, Pasadena offers comfortable weather year-round, making it easy to plan your photo session without worrying about extreme temperatures or weather conditions.
Convenient location: Pasadena is located just a short drive from Los Angeles, making it easily accessible for photographers and clients who live in the surrounding areas. It's also a popular destination for tourists, offering plenty of options for dining, shopping, and entertainment.
Diverse culture: Pasadena is a diverse city with a rich cultural heritage, offering a variety of opportunities for unique and creative photos. Whether you're interested in capturing the city's Spanish colonial architecture or its vibrant street art scene, Pasadena has something for everyone.
Experienced photographers: With its thriving photography industry, Pasadena is home to many talented and experienced photographers who can help you capture beautiful images that you'll treasure for years to come.
Overall, Pasadena is a great location for a photo session, offering beautiful scenery, a mild climate, a convenient location, diverse culture, and one of my to-go locations for family or engagement sessions..