Every bride has her own vision of her perfect wedding and perfect photos. If a beautiful avocado ranch where the scent of fresh oranges, tangerines, and lemons travels through the air and where there are gorgeous oak trees fits well with your vision of a dream wedding location, you are in luck. Quail Ranch is located just outside of Los Angeles in Simi Valley. This sprawling property provides a great outdoor wedding retreat for couples wanting to enjoy their wedding day in a private, peaceful setting.
Great Locations for a wedding day at Quail Ranch.

Your wedding ceremony will take place beneath a beautiful, majestic oak tree. The bride makes her entrance down a bougainvillea-lined grand staircase to the terrace below. As you exchange your vows, you might catch a hint of lemon or other citrus fruits in the air since the orchards are nearby.
After your ceremony, enjoy an outdoor cocktail hour. The front lawn provides a great space for enjoying drinks while socializing with your guests among beautiful pines and oak trees. During cocktail hour, you can even enjoy some lawn games.
For your evening reception, the backyard provides another great area to mingle with your guests. This space provides an expansive dance floor, which is lit-up perfectly at night, allowing for the celebration to continue once the sun has gone down.
While the location is perfect for an intimate ceremony, the property can accommodate up to 250 people, allowing you to share your special day with your closest friends and family. The property also provides on-site parking for you and your guests.
Many brides love that Quail Ranch has a private area where they can get ready for their special day. The Poolside Retreat has plenty of seating, allowing the bride to relax next to the pool with her bridesmaids. It also has a full bathroom, giving the bride and her party a great space where they can prepare for the day. I have some wonderful photos of a bride and bridesmaids having a great time at the Poolside Retreat.
The Lodge, on the other side of the property, provides a convenient area where the groom and his party can relax before the ceremony. Along with a pool table, space includes a gorgeous fireplace and a leather sofa and chairs. I love that this property really gives the bride and groom their own spaces to prepare for their wedding day.
Vendors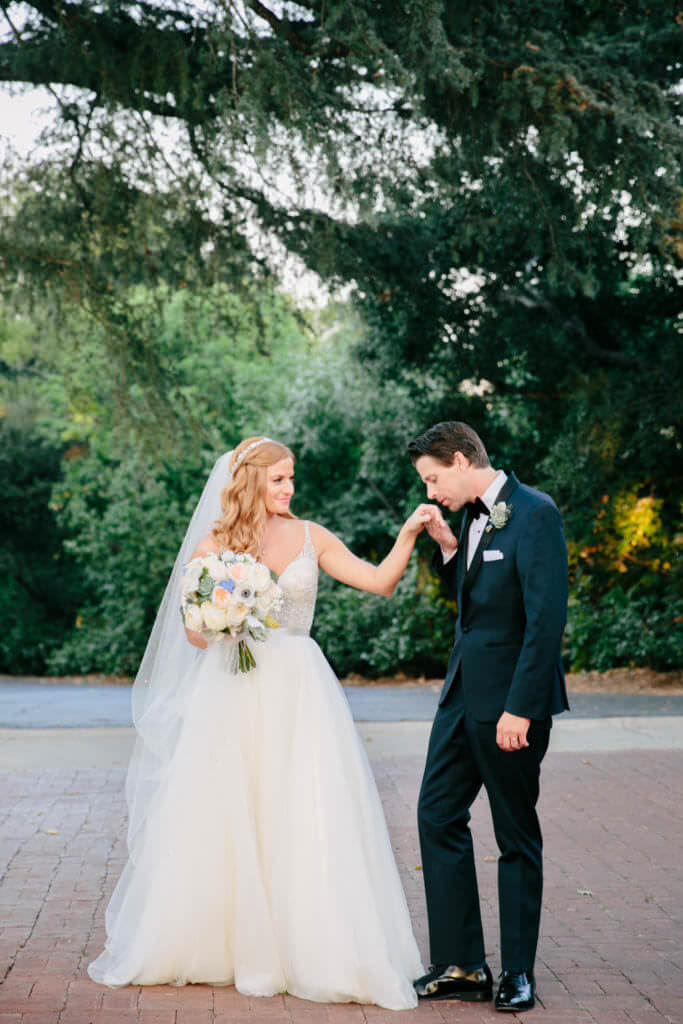 Unlike many wedding venues, Quail Ranch is a private working ranch. You will need to schedule an appointment for a tour.
As a photographer, I love the beautiful photo opportunities this venue provides. Yet, I'm not the only one falling in love with Quail Ranch. It received WeddingWire's Couples' Choice Award in 2017 and 2018. One happy groom even said:
[It] feels like a destination wedding even though it's just outside of Los Angeles. It's only 45 minutes away but it feels like you're in a different universe when you get to Quail Ranch.
Great Photo Opportunities
I have gushed quite a bit about the natural beauty of this property. From the trees to the flowers to the bushes and other natural beauty of this location, the photo opportunities are endless. Yet, the historic value of the buildings should not be ignored either. Built-in 1933, the Estate Home provides gorgeous Spanish revival architecture, which makes for some beautiful pictures. The Poolside Retreat also offers beautiful architecture and offers wonderful photo opportunities, both during the day and after dark.
While there are many other great opportunities for pictures on this property, one that I feel should not be missed is a photo of the bride on the grand staircase near the ceremony site. This a wonderful opportunity for the bride to show off her dress.
Creating beautiful, lasting wedding memories through photography is my passion. To get a better feel for my wedding photography style, take a look at my portfolio.
Want to see more pins about Quail Ranch.