I had the opportunity to visit two world famous photographers thanks to my friend
Rodolfo Arpia
we meet at
PICTAGE
. I never been to this location in Torrance I am so glad I did..
I bit of history about Joe and Denis…
Joe Buissink photographs weddings all over the world, including Venice Italy, the Amalfi Coast, Mexico, The Bahamas, New York, Napa Valley California, Southern France, Miami, and Aspen Colorado. Joe has been a favorite wedding photographer among celebrities such as Jennifer Lopez, Jessica Simpson & Nick Lachey, Brendan Fraser, Kelsey Grammer, Hillary Swank & Chad Lowe, Christina Applegate, Jenny Garth & Peter Facinelli, and Christina Aguilera.

2003, Joe was awarded the International Leadership Award in Photography by the International Photographic Council at the United Nations. Also, Kodak hired Joe in 2003 to shoot their International Ad campaign for their Portra Film Line. In 2005, Apple selected Joe to be their spokes person for the Wedding Industry, in the release of their new program Aperture. Joe has received numerous International Grand Awards for his work from the WPPI (Wedding & Portrait Photographers International). In February of 2007, American Photo nominated Joe as one of the Top 10 Wedding Photographers in the World.
Denis Reggie is the nationally renowned celebrity and society wedding photographer, proclaimed "the finest wedding photographer of his generation." He defined the genre and coined the phrase "wedding photojournalism" in 1980, transforming the look of wedding photography in America. Denis Reggie and his exclusive team of hand-picked photojournalists have covered over 1,700 weddings in the documentary style he pioneered. Assignments are accepted on a first-come, first-served basis, for any wedding anywhere.
Reggie artistically documents the essence of the event without posing, prompting, or fictionalizing events. His photographs are sensitive and spontaneous—often with a light-hearted edge—and go beyond the common "look here and smile" approach. He is known for his keen ability to photograph an event while quietly remaining inconspicuous, anticipating and following the action rather than controlling it.
Denis Reggie has been commissioned by brides and their families to photograph 20 Kennedy weddings since 1980, including those of Maria Shriver to Arnold Schwarzenegger, Caroline Kennedy to Edwin Schlossberg, and John Kennedy, Jr. to Carolyn Bessette. His photograph of Bessette and JFK Jr. exiting the remote island chapel was the cover shot seen around the world and later named in listings of "Photographs of the Year" by Life, Time, and People.
That's Joe me and Dennis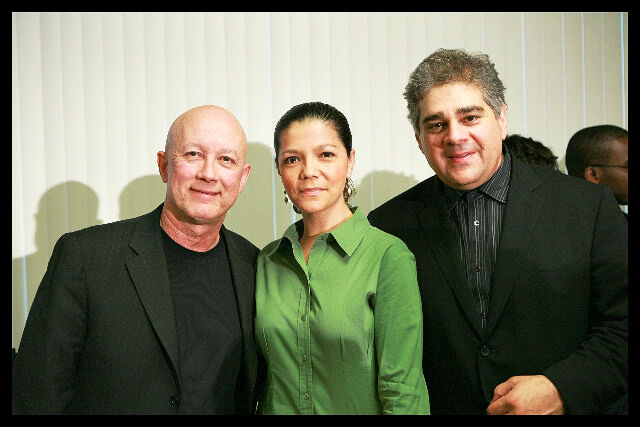 Thanks for visiting!